Salam..
You may just learn something about yourself! "
then, eager to know about mine was bring me here :)
1. WHAT COLOUR ARE YOU ??
but i prefer

greeenn

( my favourite colour !)

You are usually very straight-forward. You have a passive personality and enjoy nurturing those around you. You are very grounded and prefer to keep things simple and honest.
yes!
thats me! a simple girl~ sometimes very quite~
ahaha ( ala-ala muslimah gitu!)
2. 100 ACRE PERSONALITY QUIZ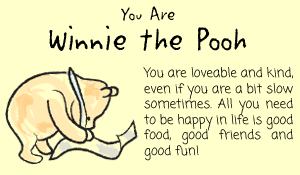 whoa! i HEARTS this result so much!
yes, i do love winnie the POOH lah!
seriously~
3. DISCOVER ZODIAC PERSONALITY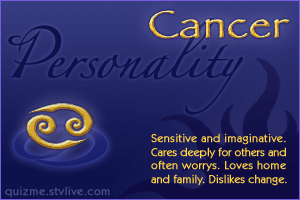 actually, this quiz doesn't need ur date of birth
its depends on the question gizen
then, i took!
this result was~ahaha~
yes! mine, was actually cancer!
totally right! like whoa!
4. WHAT CANDY ARE YOU?

OH MY~
what the heaven~?
ahahhaha. BABY BOTTLE POP?
spoilt brat? never!
i'm miss independent (:
just to leave out all the boredom!
Lot oF FuN~!
---
Terima Kasih kerana sudi mendengar kongsian saya! ~BuBBLyBieLaAppRiCiaTeit:)
---